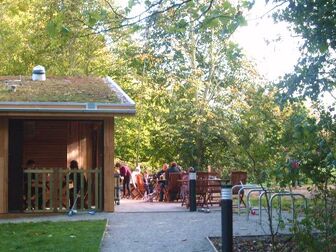 New cafe in Manor Park, October 21, 2009
Manor Park has a new cafe! It has a 'green' roof with solar panels, bike racks and loos which of course are a considerable improvement on what used to be. There's also to be a project to create a herb garden involving a local school.
January 2010 update on 'Name the Cafe' competition. Name chosen: The Green Cafe

Farmers' Market Rescue Mission, March 26, 2009
(Photo to follow)
Swift action taken by the local County Councillor should result in the monthly West Malling Farmers' Market continuing to take place in the broad High Street built for that purpose.[1]
When Hughmark, the market operator, went into liquidation, Tonbridge and Malling Borough Council announced they could find no one to run the market. So they decided to stop paying the £7,000 per year they pay to KCC to close the road, effectively cancelling all future markets..
Trudy Dean, who is Chairman of West Malling Parish Council, pressed for the Farmers' Market in the first place. " Our market charter dates from 1106 and It took us years to get our Farmers' Market. I wasn't going to lose it without a fight" she said.
Trudy who is also County Councillor for West Malling visited Paul Carter Leader of Kent County Council and persuaded him to agree to waive the £14,000 closure costs for two years to allow the market to get re-established under new local management. Trudy said " I am grateful to Paul Carter for agreeing straight away to find the money to keep the markets going. He thought our High Street was the perfect place for a market, and appreciated the importance of offering local farmers a place to sell their goods."
Kent Farmers' Market Association has been very helpful in offering to advise any group of local people who are interested in running the market A few volunteers have already stepped up, including local traders and representatives of the Pilsdon Community on Water Lane who want in time to run a weekly weekday market on their own site in Water Lane. A meeting will be arranged for the KFMA to explain how it is done. If necessary, there may be money from a government grant for which Malling Action Partnership SCA is applying to help get going again.
Several local markets like the very successful one at Shipbourne are run by volunteers and anyone who would be interested in helping should contact the Parish Clerk Carole D'Silva on 01732 870872 No experience is necessary.

News - 2010 - 2009

________
References
↑

West Malling Parish Council press release, March 2009